HELLO
If you want us to be your digital marketing agency we would love to hear more about you.
MEDICAL SEO
Want to grow your medical business online? We know the best way to do that. Our SEO team has been helping medical businesses all over the world to improve their online presence for years. We design a strategy according to your needs and you can be sure about one thing: your business will thrive with our help. If you're in the healthcare industry and you're looking to improve your web presence, healthcare SEO is for you.
Why your medical practice needs SEO
Search Engine Optimization (SEO) is the most efficient digital marketing strategy in terms of leads and return of investment. It's also the most permanent: if you stop investing, the results achieved over time don't just disappear, they have a lasting effect on your online presence. Appearing among the first search engine results and having high-quality content also has a very big impact on your offline reputation: it gives you prestige. New patients looking for a medical practice will value one that appears in a featured snippet or has a Google my Business profile set up properly. Also, improving user experience leads to a higher ROI.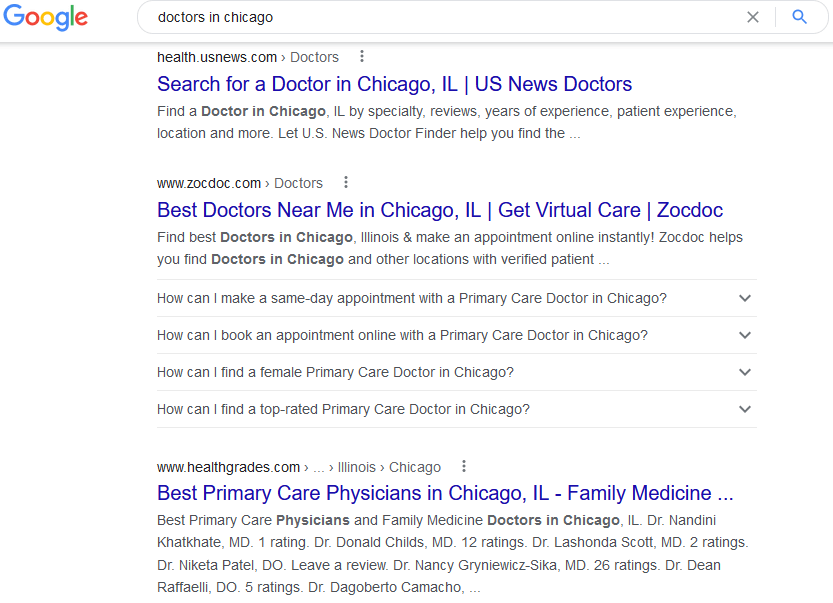 Building your online presence with a top medical SEO Company
When it comes to designing Medical SEO strategies, no two agencies are the same, so we want to tell you a little more about the way we work. We have a decade of experience in search engine optimization, which makes us extremely familiar with ranking factors and Google's algorithm. On top of that, we've been working with the healthcare industry since we began, so medical SEO services have always been at the core of what we do. To achieve the best organic results, our agency focuses on high-quality content, link building and detailed keyword research.
Successful Medical SEO Case for a Small Customers


SEO for medical practices: Our Step-by-Step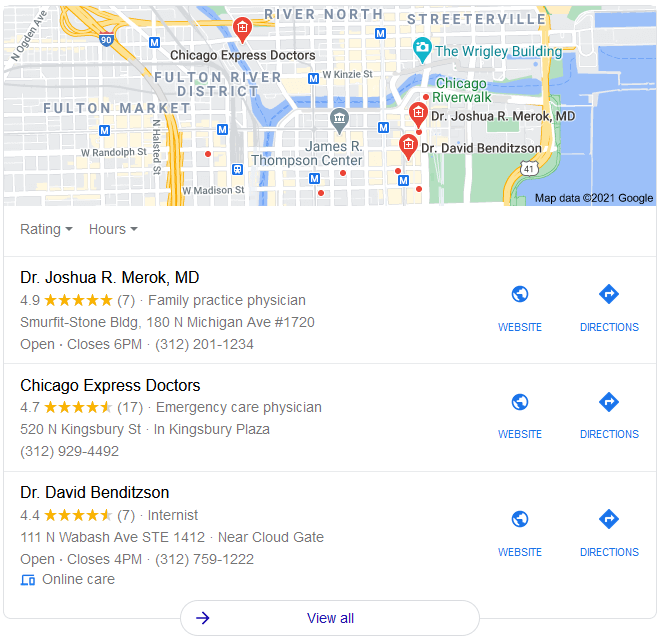 We begin by doing a SEO audit. Our SEO experts will be looking at things like the current state of social media profiles and whether they need to be optimized or improved. Page speed and responsive design adapted to mobile devices is also an important factor to consider. All major search engines (Google, Bing, Yahoo) take these factors into account when evaluating where to position a given website.

Our agency is also very focused on local SEO: that is, we want our healthcare providers to appear first on a local search. In order to achieve that, we begin with the most basic optimizations such as making sure phone numbers and addresses are visible and easy to find for users, that snippets are adapted to fit the country or region we're targeting.

Then we dive into more complex endeavors such as content optimization. Content marketing is at the heart of our strategies: including testimonials from clients that speak of the quality of the medical services offered is a great way to establish trust. We know internet users respond to well-written and useful content and search engines will reward our hard work.

Our SEO strategy is not only targeted to improve your search engine rankings but also your conversion rates. How? On one hand, the minute your medical website appears among the first places in any Google search, you start getting more potential patients to visit your website. On the other hand, by having improved user experience through SEO efforts, you are far more likely to retain those customers and have them fill out contact forms.

Pairing your SEO campaign with a PPC (Pay-Per-Click) campaign and other medical marketing campaigns is also a great way to get faster results. Unlike SEO, which is a long-term strategy, PPC provides instant traffic and can help you boost your website's visibility as soon as you start investing.
For whom we do Medical Seo Marketing
SEO for healthcare
SEO for doctors
SEO for dental clinics and more
Our SEO services apply to all doctors and the healthcare industry. We specialize in SEO for ivf clinics and seo for treatment clinics.
SEO considerations we take into account for the healthcare industry
Our primary focus in most SEO strategies for the healthcare industry is content generation and E.A.T.

In our optimization process for your health site, we focus on the current content of your website and the information you offer to your users (especially on how you provide this information). A health site must address its issues with seriousness, authority and knowledge. Google reviews any site that offers information about healthcare very thoroughly. This brings us to E.A.T.
What is E-A-T?
E-A-T, which stands for Expertise, Authoritativeness and Trustworthiness, encompasses three factors that Google uses to evaluate a brand or website's general quality. Because Google is always seeking to improve user experience, they have created Google's Quality Rater's Guidelines. These guidelines go into great detail about the things that Google takes into account while evaluating a website's trustworthiness.. While E-A-T is considered to be important by most sites, not all SEO's agree on it's ability to actually improve ranking in Google. Nevertheless, we believe that it's an effort worth making in the long run.